Circumferential Piston Pumps
The preferred positive displacement pump technology
Circumferential piston pumps are the proven and preferred pump type for all areas of food processing, beverage and cosmetic manufacturing.
Circumferential Piston Pumps
Often confused with rotary lobe pumps, the circumferential piston pump (or rotary piston pump) uses special 'sliding metal' non-galling alloy rotors to offer strong self-priming capabilities and gentle handling of shear-sensitive fluids and slurries.
Circumferential piston pumps (or rotary piston pumps) are food grade industrial pumps and feature a stainless steel 316 body with rotors constructed from a non-galling "808" stainless alloy aka 'the metal that slides'. The close-clearance operation of the rotors is critical to the performance of the pump and allows gentle handling of high viscosity, shear-sensitive fluids. We use these pumps for pumping butter & fats, fondants, icing, concentrated pastes, fruit concentrates, wholetail scampi and other fragile or high viscosity materials.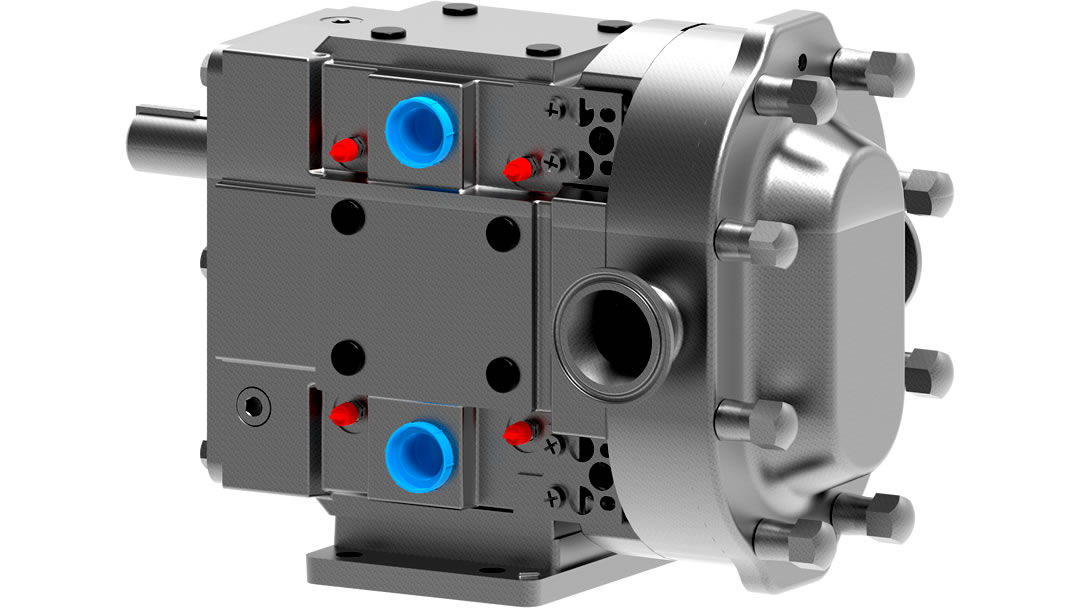 The external Circumferential Piston Pumping Principle
The rotor wings (pistons) rotate around the external circumference of the channel in the pump casing. This continuously generates a partial vacuum at the suction port as the rotors un-mesh causing fluid to enter the pump. The fluid is transferred around the channel by the rotor wings and is displaced as the rotor wings re-mesh, generating pressure at the discharge port. Pump output is directly proportional to speed and direction of flow is reversible.
Low shear pumping
The deep channels in which the rotors travel provide large voids to minimise shear and bruising of solids with gentle handling.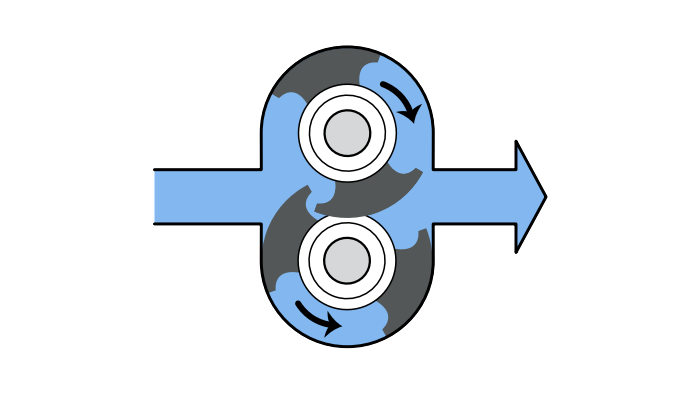 High efficiency & accuracy
The non-galling alloy rotors allow extremely tight clearances between rotating and stationery surfaces. This ensures high efficiency and metering accuracy even on thin liquids.
High Pressures
The forward part of each non-galling rotor rotates in a recess in the pump head to minimise deflection even at high discharge pressures.
Typical Applications
The reliability of the circumferential piston pumping principle has been proven over many decades and its heavy duty design and easy cleanability make it suitable for all sanitary fluids.
Dairy: milk, cream, curds, butter, soft cheese, yoghurt, margarine, ice-cream
Bakery: yeast, dough, fruit filling, icing, fat, oil
Meats: sausage filling, fat, broth, gelatine, pet food
Canned Foods: potato salad, baby food, soup, stew, tomato, relish, pudding, dressing, mayonnaise, jam, jelly
Beverages: beer, mash, wort, fruit juice, fruit concentrate
Confectionery: liquid sugar, chocolate, cocoa butter, cocoa liquor, corn syrup, gelatine
Flavourings: syrup, concentrate
Dressings: Mayonnaise, prepared sauces
Cosmetics: cream, lotion, jelly, shampoo, emulsion, toothpaste
Industrial: paint, ink, latex, polymer
Construction
Designed for 'Universal' appeal, our pumps and their component parts are interchangeable with other brands.
Pump casing is 316 stainless-steel, interior finished to 3-A standards.
Rotors are special non-galling alloy.
Twin wing rotors are standard with single wing rotors for large solids optional.
Rotors with special clearance available for high temperatures, chocolate etc.
One-piece 316L stainless-steel shafts standard on smaller models. High-strength 17-4 PH shafts standard on larger models.
Helical timing gears minimise operating noise.
Seal options include single O-ring seal, single mechanical seal, double O-ring seal with flush or double mechanical seal with flush.
Four-way mounting allows horizontal or vertical port orientation and provides mounting flexibility.
Bearing retainers are stainless-steel to ensure longer life under harsh cleaning conditions
Grease fittings are threaded to prevent accidental removal during greasing.
Circumferential Piston Pump Series
TRA10 Series
The 'workhorse' circumferential piston pump designed to be cleaned out of place.
Interchangeable with Waukesha® Universal 1 pumps and parts.
Capacity to 102m³ per hour
Pressure to 27 bar
Viscosity to 200,000 cPs
Temperature -40°C to 150°C
TRA20 Series
The advanced hygiene circumferential piston pump designed for clean-in-place.
Interchangeable with Waukesha® Universal 2 pumps and parts.
Capacity to 102m³ per hour
Pressure to 34 bar
Viscosity to 200,000 cPs
Temperature -40°C to 150°C
Revolution Series
The ultimate circumferential piston pump with all the legacy benefits plus much more.
Same exterior footprint as Waukesha® Universal 1 & 2 pumps. 
Capacity to 173m³ per hour
Pressure to 31 bar
Viscosity to 440,000 cPs
Temperature -40°C to 150°C