Our Story
Best by name, best by far
BestPump Company History
BestPump was formed in early 2000 by John Best in Lanarkshire, Scotland, UK.
After four decades of employment in the industrial and hygienic pump sales industry with several national and international pump companies, John founded his own small business and named it 'BestPump'.
BestPump's mission was, and still is, to supply best-in-class pumping solutions to the food, beverage and pharmaceutical manufacturing sectors in the UK and beyond.
Initially set up as a Scottish and UK distributor for several North American and European pump and process equipment manufacturers, the company flourished and grew. John's many contacts at the likes of Heinz, Cadburys, Baxters, Devro and other respected manufacturers entrusted him and his new dynamic, reactive and reliable pump supply company.
BestPump quickly outgrew its original sole proprietorship status and, in April 2004, BestPump Ltd was incorporated and remains a family owned and run business.
Fast forward to today and we are now a single source supplier of pumps, process equipment and bespoke stainless-steel fabrication services with clients in Scotland, throughout the UK, Europe, North & South America, Africa and Asia!
BestPump Executive Staff
Since February 2010, BestPump has been owned and run by John's son and daughter team of Jeff Best (Managing Director) and Ashley Gilgannon (Financial Director) – all under his watchful eye of course!
BestPump Ltd is an authorised distributor for several respected pump manufacturers and we engineer hygienic processing equipment while providing a range of services including assembly, installation and repairs.
With a workforce skilled in pump engineering, stainless steel fabrication and pipework installation, your pumps, processes and production lines are in safe hands with BestPump.
BestPump's core business offerings
Our core business activities are:
Distribution and technical sales of industrial and hygienic pumps
Pump repairs, maintenance and installation services
Manufacture of screw feeder pump systems for high viscosity applications
Design and supply of hygienic process equipment
Fabrication of bespoke stainless-steel equipment
Global Demand for BestPump Pump Feeders
Perhaps our biggest success has been the design and evolution of our own niche line of pump feeders that enable the pumping of high viscosity fluids and solids that wouldn't normally be pumped with conventional pumps.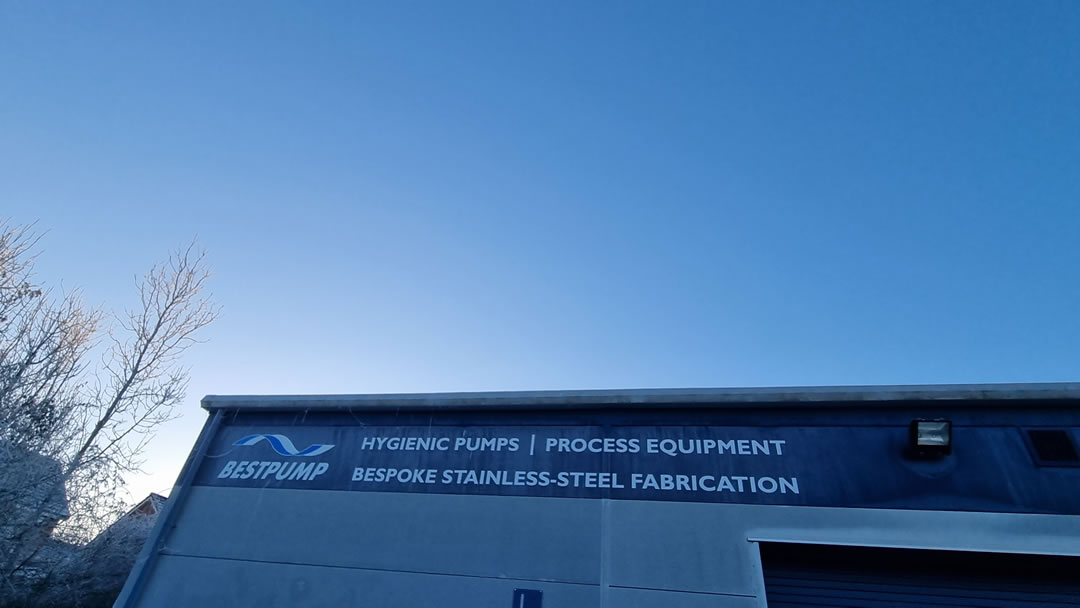 Our Headquarters in Coatbridge, UK
Our Coatbridge facility is our headquarters and features dedicated pump repair workshop and dedicated metal fabrication workshop along with storage and office space.
2000
In April 2000, we received our very first order! It was for a 1½-inch Waukesha U1 pump model 030-U1 with geared motor and mounted on a stainless-steel base. The order came from a local confectionery manufacturer and with that, BestPump was in business.
2004
Following a very successful start-up period, the company changed from Sole Proprietor status and was incorporated as a private limited company in April 2004. This coincided with BestPump's first sale and installation of a butter block pump & screw feeder system.
2008
The increasing number of pump sales and growing involvement in projects led to a need for help in the office and on customer sites. So in the summer of 2008, BestPump employed its first engineer and began to offer pump engineering and repair services.
2010
February this year saw the appointment of two new Directors. Company growth had continued and having outgrown the original home-office in Airdrie, an office in Coatbridge and a couple of offices in Cumbernauld, BestPump put down roots in Dundyvan Industrial Estate in Coatbridge.
2016
After outgrowing a couple of office / workshop units in Dundyvan Industrial Estate, BestPump relocated yet again. This time, we moved literally across the road into a brand new modern industrial unit in the newly constructed Dundyvan Enterprise Park, Coatbridge. With office space, hygienic pump workshop and mezzanine floor for stock storage, our ability to serve our clients was stronger than ever.
2017
In April 2017, we broadened our product & service offerings to include stainless-steel fabrication, welding and pipework by opening a stainless-steel fabrication workshop in a vacant unit in Dundyvan Industrial Estate. This confirmed our position as a single-source supplier for hygienic pumps and related bespoke stainless-steel equipment.
2018
BestPump received its first pump feeder order from the USA! We designed, manufactured and delivered a large pump feeder system to deliver 140kg of fat every minute.
2019
BestPump received its first major order from the far east! A new client in Japan visited our facility and we successfully designed and manufactured a scaled-down pump feeder system for laboratory scale rework and pumping of butter. We also exhibited for the first time at the PPMA 2019 show at the NEC, Birmingham, UK.
2020
Despite the Coronavirus pandemic this year, in October 2020, we relocated our metal fabrication workshop across the estate and into two vacant units adjacent to BestPump HQ. After knocking down a wall and adding a new internal doorway to link the units, we now occupy units L, M & N at Dundyvan Enterprise Park, Coatbridge.