Bulk product screw feeder & pump systems
Hygienic pump and process equipment specialist, BestPump Ltd of Coatbridge, UK, has developed a multiple pump screw feeder system which pumps bulk viscous products.
The bespoke machine can receive an entire batch of freshly mixed viscous cream directly into its screw feeder hopper then pump the product to multiple different locations.
…take previously 'unpumpable' products and, seemingly against the laws of science, make them 'pumpable'.
This small family business has carved a niche in the global food production sector with a bespoke processing solution that empowers food manufacturers to take previously 'unpumpable' products and, seemingly against the laws of science, make them 'pumpable'.
Think cheddar cheese, frozen chicken fat, chilled butter, solid shortening – BestPump has converted all of these solid block products, typically weighing 25 kg (55 lbs) per block, and pumped them as if they were fluids.
Other wins have been marzipan, fig paste, ultra-sticky fruit paste and many more products that most people would not even consider handling with a pump.
High volume pumping of viscous products
This multiple pump screw feeder is the latest innovation in a long line of bespoke pump screw feeder machines and is a real 'game-changer' for high volume, high capacity food manufacturers.
Imagine the leap forward in productivity that is achievable by the ability to mix up one large batch of product, dump it into a suitably sized hopper and then pump it to multiple destinations around the plant in minutes.
Typical multiple Screw Feeder Layout
Product 'on tap' and 'on demand'
Introduce metering technology to bypass manual weighing and you can literally dose, meter, inject or extrude set weights of non-flowing products. You could actually have cold butter 'on tap'!
Integrate with existing machinery
The systems can be stand-alone or designed to integrate with existing mixers or tanks and have the flexibility to use different hygienic pump technologies – typically positive displacement pump types like hygienic twin screw pumps or hygienic circumferential piston pumps.
Prevents product 'bridging'
For extra viscous creams and pastes, a bridge-breaker is located above the twin auger feeders to prevent product bridging and to encourage the thick product down into the screws which then feed the products to the pumps via a suitable discharge manifold.
Load bulk solids, chunks or dump a complete batch
Need to transfer a large volume of product? Simply dump your product mass into the screw feeder hopper, which is sized for your maximum volume of product, then pump it to where you need it to be. Ideal for pumping to depositors, fillers, tanks, kettles, mixers etc.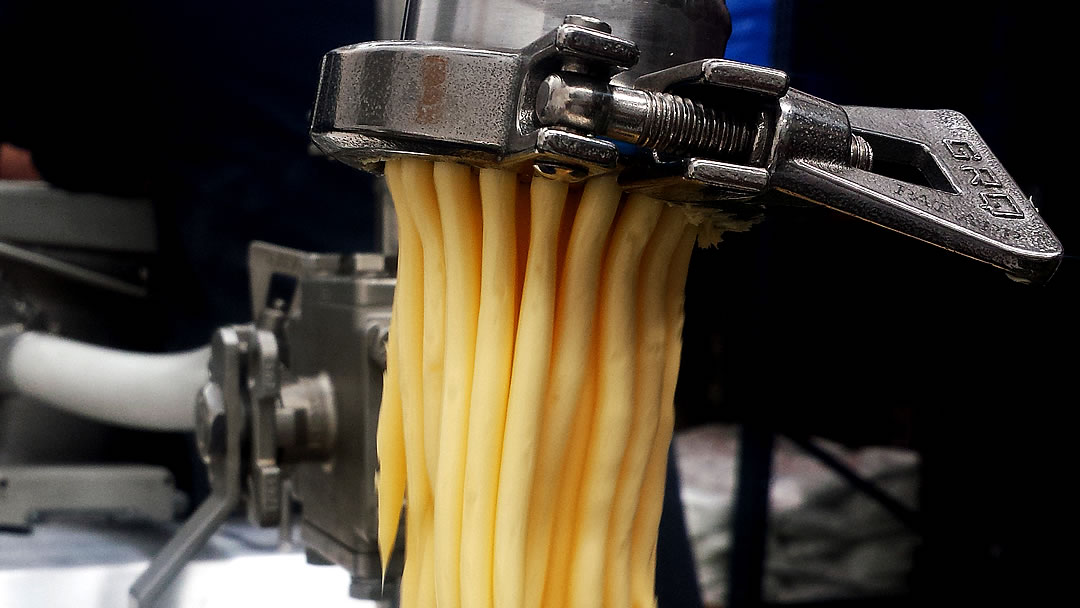 Pump or meter to one or more locations
Our systems can be used as a single pump 'point-to-point' transfer system or it can have multiple pumps for pumping to multiple locations. If you need to meter out set volumes over a set time period, this is also achievable with our various control options.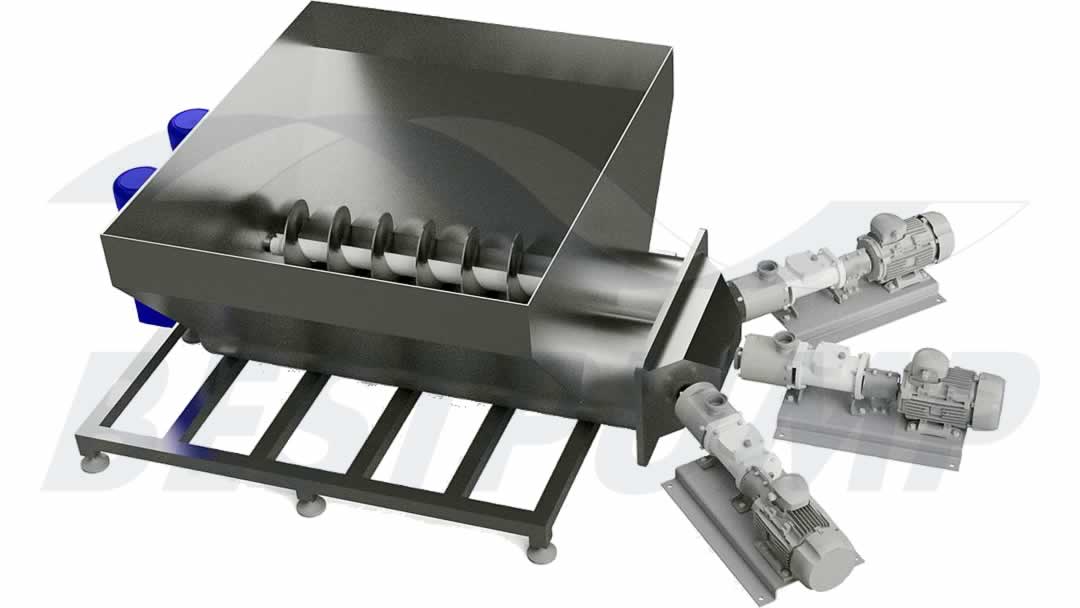 Interested in this product?
For more information, please contact BestPump directly. You can reach us by telephone on +44 (0)1236 433799 or send us a message here.